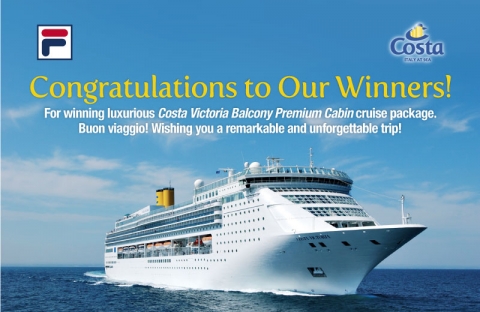 Wednesday, November 5, 2014
On October 31st, 2014, we held a much anticipated event to draw winners of our luxurious Costa cruise package prize worth US$ 1799. About hundreds of participants entered and without further ado, here is the result:
FILA First Winner
Jl. Mochtar Luthfi, Ujung Pandang
FILA Second Winner
Wandi Louis
Congratulations to our winners!
Buon viaggio! Wishing you a remarkable and unforgettable trip!
Please share us your stories and some memorable photos of your trip and Tweet us with #FILAIndonesia or join us on our Facebook page.
Please do not hesitate to contact us for more detail info about this program.
Contact Person: Nita Yuliana
Office Number: +62-22-7792888 (ext.3510)