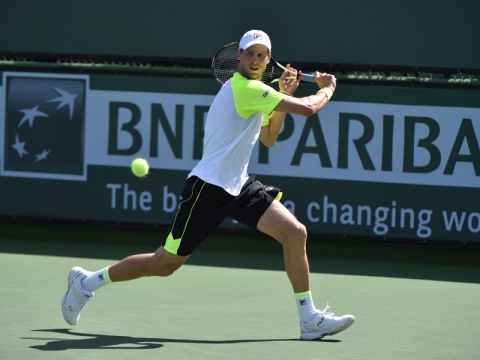 Wednesday, January 13, 2016
FILA EXTENDS SPONSORSHIP AGREEMENT WITH BNP PARIBAS OPEN
Official Apparel and Footwear Provider of BNP Paribas Open Expands Role at Indian Wells Tennis Garden
​FILA has extended its Premier Sponsorship agreement with the BNP Paribas Open, the largest ATP World Tour and WTA combined two-week event in the world to be held March 7-20, 2016 at the Indian Wells Tennis Garden, it was announced today by Chief Executive Officer Raymond Moore.
With the multiyear partnership, FILA will continue to serve as the Official Apparel and Footwear Sponsor of the Tournament, providing custom designed uniforms to event staff, volunteers, ball kids and officials. FILA will continue to have a retail store on-site at the BNP Paribas Open, offering an enhanced shopping experience for spectators. At this year's tournament, FILA will unveil its 2016 collection of tennis apparel and new performance tennis shoe, the Cage Delirium, as well as provide t-shirts for the Kids' Day School Team Tennis Challenge.
FILA will also expand its role at the Indian Wells Tennis Garden (IWTG) throughout the year, outfitting teaching pro and tennis club staff, while providing local area high schools and junior colleges with the option of a team purchase program. FILA will become involved with the IWTG junior academy and local National Junior Tennis League events, as winners will receive FILA tennis apparel and footwear packages.
"FILA's sponsorship of the BNP Paribas Open is the cornerstone of the brand's tennis event marketing efforts," said Jon Epstein, President of FILA North America. "We are thrilled to extend our relationship with an event that is best in class, and continue to build on this terrific partnership. We look forward to our year-round involvement at the Indian Wells Tennis Garden."
"I'm excited to continue our long-standing partnership with FILA while also broadening our agreement to include a year-round presence at the Indian Wells Tennis Garden," said Moore. "Whether it is through their retail space, outfitting our volunteers, or via activations at events like Kids' Day, FILA is always seeking to connect with our patrons and create a more engaging and dynamic experience at the BNP Paribas Open, and we greatly value that in a sponsor."
About the BNP Paribas Open
The BNP Paribas Open is the largest ATP World Tour and WTA combined two-week event in the world, and is held annually at the Indian Wells Tennis Garden. The site has undergone a significant expansion that includes a new permanent Stadium 2 with 8,000 seats and three restaurants, including world-renowned Nobu; four more practice courts, an additional 19,000 square foot shade structure, and more. The tournament offers more than $10 million in prize money, and is the only event to provide the Hawkeye line challenge system on all match courts, including qualifying rounds. In 2015, more than 456,000 people attended the event. For more information or to purchase tickets visit www.bnpparibasopen.com​​, call 800-999-1585 or visit the Indian Wells Tennis Garden box office at 78-200 Miles Avenue, Indian Wells, CA, 92210.
About BNP Paribas
BNP Paribas has operations in 75 countries and boasts more than 185,000 employees, including approximately 145,000 in Europe. It ranks highly in its two core activities: Retail Banking & Services (comprised of Domestic Markets and International Financial Services) and Corporate & Institutional Banking. In Europe, the Group has four domestic markets (Belgium, France, Italy and Luxembourg) and BNP Paribas Personal Finance is the leader in consumer lending. BNP Paribas is rolling out its integrated retail banking model across Mediterranean basin countries, in Turkey, in Eastern Europe and a large network in the western part of the United States. In its Corporate & Institutional Banking and International Financial Services activities, BNP Paribas also enjoys top positions in Europe, a strong presence in the Americas and solid and fast-growing businesses in Asia-Pacific.
About FILA
FILA has a long and distinguished history in the world of tennis that continues with endorsements of ATP World Tour and WTA Tour athletes. FILA is a sponsor of the BNP Paribas Open, the Hall of Fame Tennis Championships and the Junior Orange Bowl International Tennis Championship. In addition to event partnerships, FILA is an official supplier to Junior Tennis Champions Center, Van der Meer Tennis, John Newcombe Tennis Ranch, and the Kim Clijsters Academy in Belgium.
The FILA® brand was established over a century ago by the FILA brothers of Biella, Italy. FILA® is now a leading sport and leisure footwear and apparel brand that is distributed worldwide. FILA has achieved world-class recognition in tennis by marketing high design and style content products that are endorsed by professional athletes from around the world.