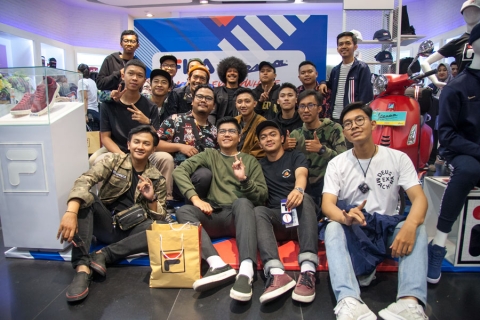 Saturday, December 7, 2019
(Bandung, December 2019) At the end of 2019, to celebrate the 20th anniversary of PT Polyfilatex, as well as to welcome the coming of 2020, on 7th December 2019, FILA Indonesia launched its collaboration product with the world's most famous scooter brand, Vespa. The official collaboration between FILA Indonesia and Vespa was officialised between PT Polyfilatex, the only licensee and distributor of FILA in Indonesia, and Piaggio & C. S.p.A, the owner of the Italian automotive brand, Vespa.

FILA's collaboration with Vespa is pretty unique, as both brands are born in Italy and have a long and renowned history in their respective fields. One characteristic that is consistently important to both brands is the ability to leverage on their Italian heritage, while being extremely contemporary with innovation and creativity at their core.

"We are very pleased to welcome this collaboration, bearing in mind that the two brands, FILA and Vespa, have a lot in common. Both are from Italy, both have a strong character and both have their own identities that can influence the lifestyle of the wearer. The FILA x Vespa collaboration was fully initiated by PT Polyfilatex as a FILA Licensee and Distributor in Indonesia. With this step, we hope that the FILA x Vespa collaboration can also be followed by other countries in the world in the near future," said Adryanto Hidajat, Director of FILA Indonesia.

Through the grand launch of the FILA x Vespa collection on 7th December 2019, the Indonesian customers have the opportunity to purchase co-branded FILA and Vespa apparel, sneakers, bags and accessories. The FILA x Vespa collection will be available throughout the FILA Flagship Stores, Exclusive FILA Outlet and Vespa's main dealers in a number of major cities in Indonesia. Besides that, the public can also order FILA x Vespa products through several leading online shopping websites in Indonesia.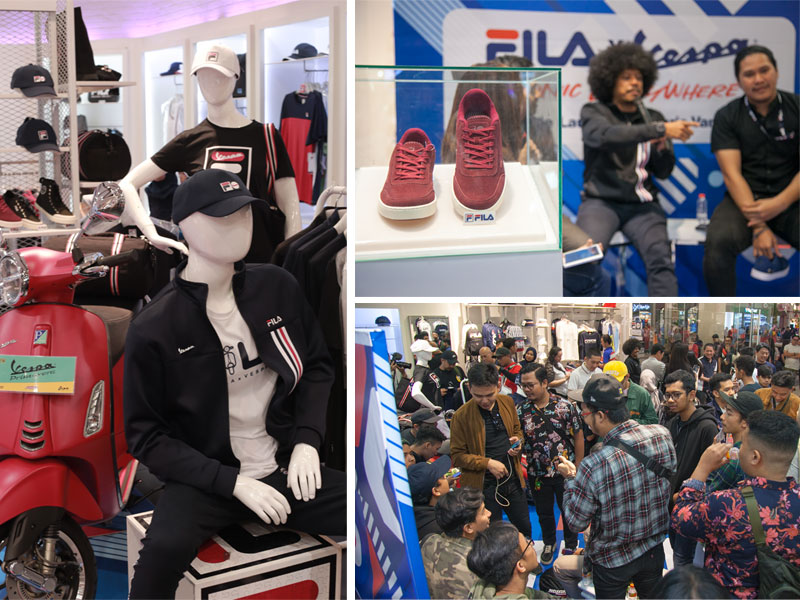 The launching event was attended by Eddi Brokoli, the national public figure, and Vespa Community represented by Move (Modern Vespa) Chapter Bandung. Both Eddi and Move spoke about FILA x Vespa collaboration with our design team that has developed the collection.

"Both FILA x Vespa come from Italy which means, this collaboration is like a couple that finally meets and makes something special for Vespa lovers," said Eddi.

"The collaboration between FILA and Vespa is like our new refreshment for our fashion during a ride with Vespa," said Husni, Public Relation Officer Move Bandung

Because of the agreement between PT Polyfilatex and Piaggio & C. S.p.A will expire at the end of 2020, the collection FILA x Vespa will appear in each quarter during the upcoming year.

About FILA
For more than a century, FILA has always been involved and present at some iconic moments. Starting from a small textile company in Biella, Italy in 1911 to 1973 when it was first introduced in the world of Tennis, FILA consistently makes many products with designs that are proud to anyone who wears them. Our passion is to continue to innovate and develop creativity in the world of lifestyle, fashion, and sports. At present, FILA Korea as FILA's Global Headquarter operates more than 70 FILA licenses worldwide. FILA plans to enhance and strengthen its brand image through active communication "One World, One FILA."

About Vespa
It was 1946 when Vespa made its debut on the roads of a Europe devastated by the recent conflict but, equally, full of creativity and a desire for renewal. After seventy-three years of history and over eighteen million scooters, Vespa is a global reference for style, elegance and technology. A brand known and loved all over the world that, with more than one and a half million vehicles produced in the last decade, is experiencing one of the most fortunate and dynamic periods in its story.